Hello everyone. Christmas is coming, so children are counting the days until the gift delivery. But why wait until the 24th to enjoy some presents? Why not enjoying the whole month1? Comes in the scene Advent Children calendars. To each day its treat or small toy, an appetizer for what to come.
So, some active and awesome people in Pico-8's community decided once more to offer a game or a small scenery one day, one treat per day and this until the 24th, the big great day. So, let's introduce the Pico8 Advent 2019, which can you play here or by clicking on the picture I'm providing under this paragraph.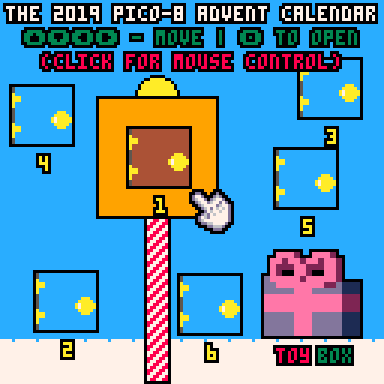 Unlike calendars giving chocolate as treats, those small games are unlocked permanently starting from the day they're unveiled, so you'll have all the time you need to enjoy them. On my own side, I'll try to play each one of them. Not really easy, and as you can guess, I'm already a bit late on my own schedule, but there are some pearls you might give a try too, like UFO Santa Blaster which reminded me of a pachinko game with the progression curve evolving the gameplay to a chaos made of coins, mints and gifts.
I'll also have to mention FSouchu's incredible tour de force with his 3D ski game, which is something to behold. I can't even make a decent 3D engine and Fred just rolls away with this impressive cart. It reminds me of the archade racing games where you were fighting against the clock because you had a limited amount of time to reach further and further. This year's games look promising so far so let's see how the whole month will go, shall we?
Have an awesome December and may you enjoy the last days of the decade! See ya soon!
---
I'm writing this post hoping there won't be a global catastrophe during this month. ↩︎